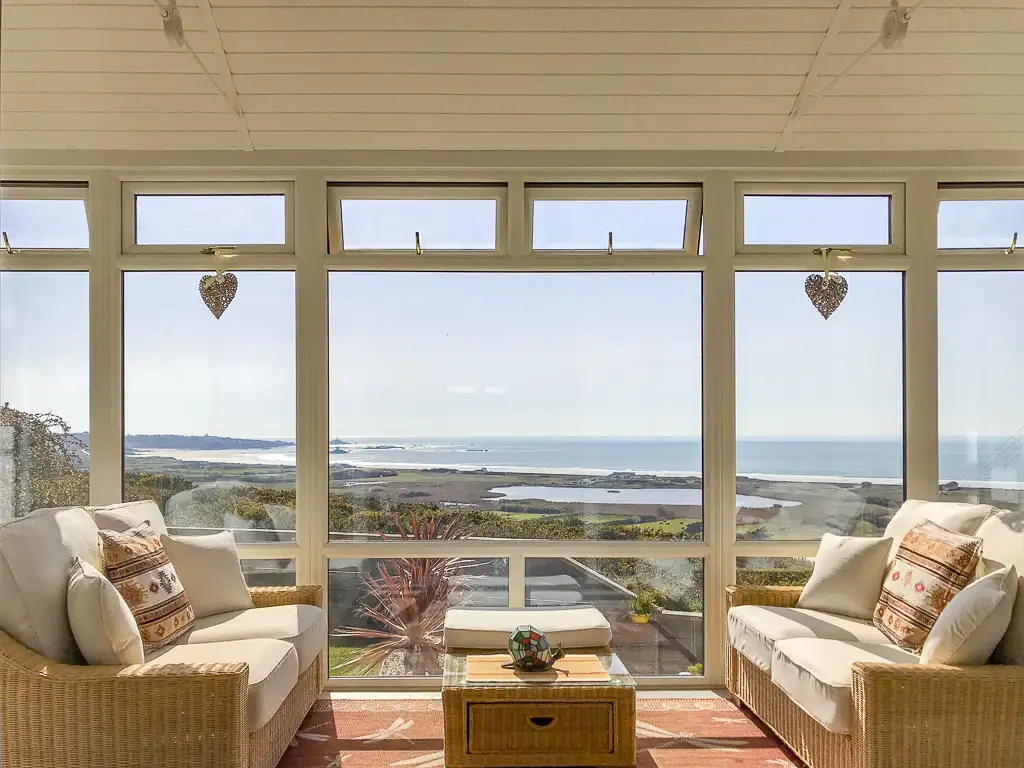 Our Unique Insulation System
Conservatory Insulations in Jersey and Guernsey. Conservatory Insulations have been trading in Jersey and Guernsey for quite some time, installing our unique C.H.R.I.S.® system to conservatory ceilings. This fantastic product means you can use your conservatory all year round, keeping it cooler in the summer and warmer in the winter.
Benefits
Being the largest insulator of conservatory ceilings in the UK means we can bring our unique product to the channel islands. Our unique C.H.R.I.S.® system has already benefited numerous customers in Jersey and Guernsey all of whom recognise the following benefits.
Reduces Noise
We are regularly told by our customers that one of the added benefits of our insulation is its noise dampening qualities. Apparently conservatory roofs can be very noisy, especially during a heavy downpour. Because of the unique way our insulation works it creates a sound barrier to dampen and reduce the amount of noise passing through your conservatory ceiling.
Looks Like New
One of the issues of conservatory ceilings is how much dirt, moss and insects that gather there and although they can be cleaned they have a tendency to look worn over a period of time. To make matters worse polycarbonate conservatory ceilings have a tendency to fade and look dirty after a few years which can make your conservatory experience less pleasurable. Our fantastic IFB board is part of the C.H.R.I.S.® system, designed specifically to reflect the maximum amount of light while offering a clean and wipeable surface that will keep your conservatory looking amazing for years to come.
Reduces Heating Costs
Keeping your conservatory warm during cooler months can add an expensive overhead to your conservatory experience. Glass is a poor insulator so conservatories can be very difficult to heat. However glass and polycarbonate roofs will waste the most energy as heat rises and passes through the roof resulting in a phenomenal amount of heat being lost through the roof. Our insulation will help prevent this by recirculating the warm air back into the room, reducing the amount of heat required to warm the room and keeping it comfortable, therefore saving you money.
Reducing Heat Gain
As a conservatory warms up during the summer months the temperatures can become unbearable making the room unusable. However the sun trap problems don't stop there, as the room gets hotter, it can also heat the adjoining house with excessive heat passing through the walls or if open plan straight into the house, to make the temperature in your home become higher. Read more here. Conservatory Insulation helps prevent solar gain by reducing the amount of direct sunlight attracted into your conservatory.
Protecting furniture
Adding conservatory insulation can help prevent direct sunlight from damaging your furniture and belongings. We have seen examples of ruined furniture, flooring, carpets and even a damaged TV all caused the heat and UV rays found in direct sunlight.
Sponsoring Channel Islands weather
As we have such a strong following in Jersey and Guernsey we decided it would make sense to sponsor the channel island weather, identifying how our unique insulation could assist you conservatory "whatever the weather". Some examples of our ITV weather adverts are below
Conservatory Insulations in Jersey and Guernsey
What do the customers have to say?
It all started with a ridiculously high quote from a National Blind manufacturer for Conservatory Roof blinds 2 weeks ago, this led us to explore other avenues of making our Conservatory more comfortable. How glad were we that we discovered, via Facebook, Conservatory Insulations. A little sceptical to start with at the price and the swift arrangement of an installation date – a week – we were soon set at ease by the contact with the office based staff and certainly by the arrival of Ian and Craig the installers.
Our conservatory is large 20 sqm but nothing was a problem for these two, tidy, efficient, friendly and very professional. They arrived before 8am having travelled from Manchester and were immediately ready to work. In just less than a day we have a fantastic new room. The Installers left a clean and tidy site which meant we were able to move our furniture back in and enjoy our Friday evening in what seemed like a new house! We immediately noticed we didn't need any heating once it went dark outside which, with current weather conditions, we have been using and this morning, all the glare from a brief and passing sunburst was cut out. We look forward to hopefully, some more sunny days without blinding glare and some cosy Autumnal/Winter days.
Thanks to every member of this team, superb product and excellent customer service from beginning to end.