Does Insulating a Conservatory Roof Work?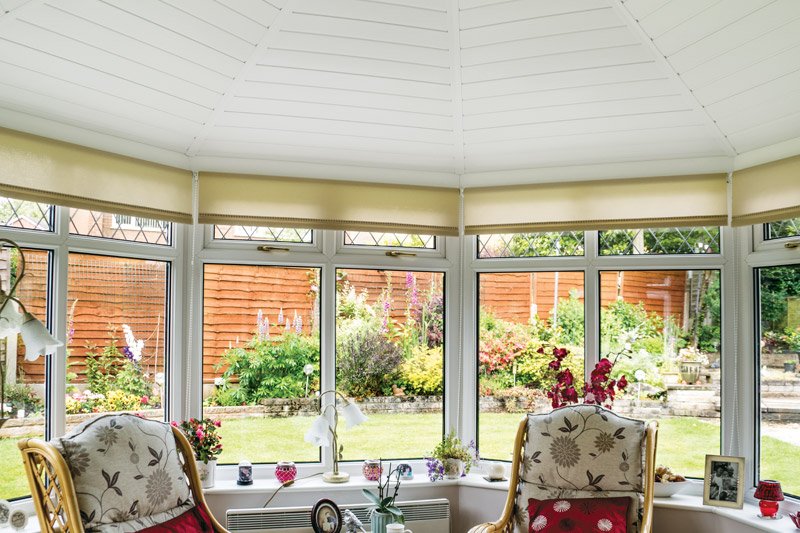 If you've noticed that your conservatory gets too warm to enjoy in the summer and becomes a financial burden during the winter due to heat loss, you may want to consider insulating your existing conservatory roof. But does insulating a conservatory roof work? Our 30,000 customers believe so as you can see in our example reviews here, and with so many customers nationwide you can rest assured we have installed conservatory roof insulation near you. Have a look at our Trustpilot and Google Reviews
Polycarbonate or glass roofs can look great and offer a beautifully bright room. Unfortunately, when it comes to functionality, they can let you down.
Letting too much sun in during the summer and failing to prevent heat loss in the winter can mean your conservatory does not get used as often as it could.
At Conservatory Insulations, we want to help you get the most out of your conservatories, which is why our innovative and exclusive C.H.R.I.S® system is so popular.
How Conservatory Insulation Benefits Your Home
The C.H.R.I.S® system from Conservatory insulations has several benefits that help make the installation a savvy investment for the future. Here are some of the top reasons you might want to insulate a conservatory…
Keeps Your Conservatory Warm In Winter
As you might expect, insulating conservatories can make a huge difference during the cold weather. Our exclusive C.H.R.I.S® system creates a complete thermal barrier for glass or polycarbonate roofs, offering unrivalled thermal performance.
By cutting off one of the biggest contributing factors of heat loss, our insulation can make a massive difference to your energy bills, so much so the Government recognise it as an Energy Saving Product and attribute 0% VAT.
Keeps Your Conservatory Cool In The Summer
It is a popular misconception that insulating a conservatory will increase the heat build-up during warm weather. In fact, the opposite is true.
When it is extremely warm during the summer, polycarbonate and glass roof conservatories act like a greenhouse, with the sun shining right through. Our insulation actually reflects the sunlight coming through the full-length glazed panels, making it a lot easier to regulate the room's temperature.
You won't need to worry about a lack of natural light following the conservatory insulation installation either. The white uPVC cladding we use reflects the light that enters through the glass walls, meaning the space will remain fresh and bright.
Other conservatory insulation companies do not have access to the C.H.R.I.S® system that is specifically designed for use in direct sunlight. This makes our service the ideal solution for keeping your conservatory at a comfortable temperature all year round.
It Makes Your Conservatory Roof Quieter In Bad Weather
One issue you might have found with your old roof is the noise it makes during bad weather like torrential rain or hail. Sometimes it can get so bad you wouldn't want to stay in the room!
The C.H.R.I.S® system can reduce that sound, transforming it from incessant drumming into ambient noise.
Stops UV Rays
As well as reducing the heat build-up from direct sunlight, insulating your conservatory roof can help to block out harmful UV rays and prevent your furniture looking unsightly or becoming weak to the point it needs replacing. The most harmful damage is undoubtedly caused in the summer months when your conservatory is the hottest room in the house. Exposing your furniture and flooring to extreme heat as well as the sun's UV rays causes further damage attacking the very bonding holding it together.
Our C.H.R.I.S® system offers a robust solution to prevent faded furniture or overheating equipment and computers. The damaging UV rays will no longer be able to radiate into your conservatory through the roof thereby protecting your belongings and keeping the room cooler.
Aesthetically Pleasing
We make sure that we leave your conservatory absolutely spotless with a quality finish. Inside, we fit our internal finishing board as part of the C.H.R.I.S® system that keeps the space looking bright and fresh. It is a very popular look that is fitted with a unique sheen to increase the natural light in the room.
We also make sure to add our bespoke fitted tint to ensure your conservatory looks as great as ever from the outside, too. For more about the fitting and finish, click here.
It Makes Your Conservatory More Functional All Year-Round
Having a comfortable temperature in your conservatory all year round can transform the room and what you use it for.
Whether you're looking for a functional dining space, a spare room to relax, a children's play space or even a home office, moderating the temperature is vital.
Conservatory Insulation Can Be Cost-Effective
When you look at the savings that can be made on your energy bills, insulating your conservatory roof starts to make a lot of sense. But there are other ways that it can help to save you money…
By transforming existing conservatory roofs, you won't have to worry about installing a solid roof. A replacement conservatory roof can be quite expensive and inconvenient due to the extensive work that will need to be done.
We can insulate an existing roof, usually within one day, and it does not require removing an entire conservatory structure!
Having the functionality that our insulation gives to a room can also be a great selling point if you're thinking about moving. While a traditional roof can be a great addition, selling this as an extra room that can be used all year will be a real bonus.
FAQs
Do I need planning permission to insulate an old conservatory roof?
You will not need planning permission to insulate your conservatory roof. This is another great benefit that will help you get the most from your conservatory quickly and easily.
If you want to learn more about our insulation installation, get in touch for a free quote by clicking here.
We are an experienced, innovative conservatory insulations company, proud to offer our service all over the UK.
Does conservatory insulation installation take long on an existing roof?
If you're interested in having your existing glass or polycarbonate roof insulated, you'll be pleased to hear that this can usually be completed in less than a day.
It is a relatively simple process that our team of experts are experienced in completing. We will leave your conservatory with a flawless finish before cleaning. To find out more about the C.H.R.I.S® system, click here for a 10 step guide.