Conservatory Insulations installation process is what separates us from the competition. We've designed a a system that's not only easy for us to install, but it can can be done on the same day to exacting standards. Read on to see how to insulate a conservatory ceiling.
How to insulate a conservatory ceiling?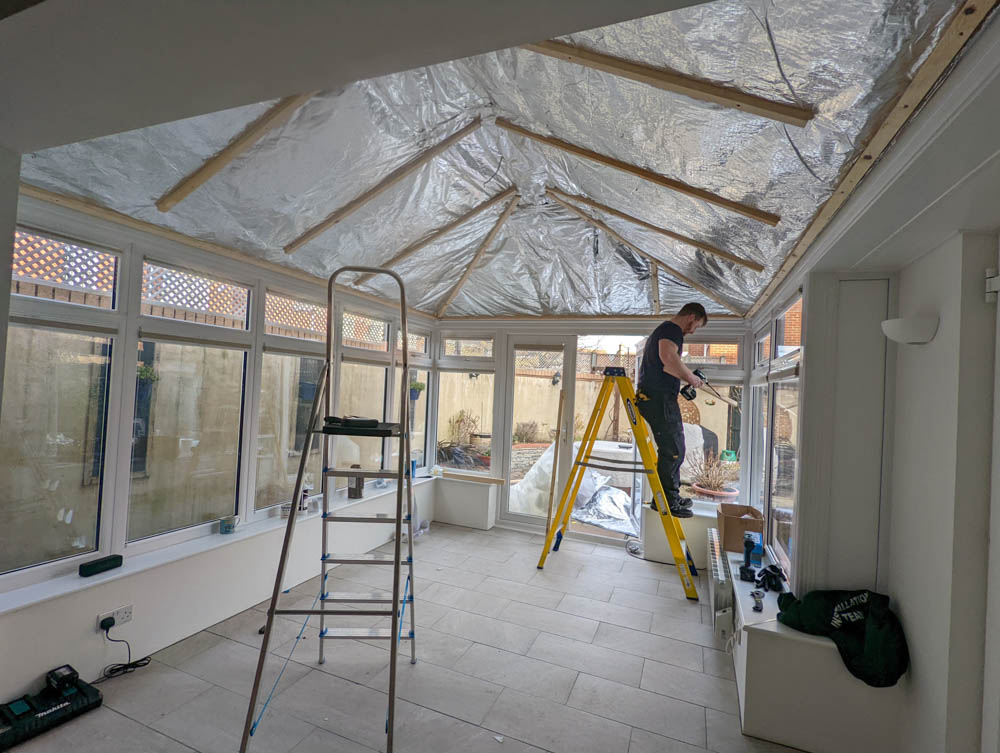 Our conservatory ceiling insulation system called the C.H.R.I.S® system is designed specifically as a bespoke solution to the issues caused by fluctuating temperatures in your conservatory. We normally install in just 1-day to help resolve these issues at half the cost of the alternatives.
Our installation process is what separates us from the competition. We've designed the C.H.R.I.S® system that's not only easy to install, it's normally done so on the same day.  Our bespoke training process ensures all our fit teams are trained to the highest standards, ensuring the best materials are always used and every job is installed the right way. In fact we have now received our ISO 9001 certification, which proves our exacting standards are kept and reproduced for every fit. With over 30,000 installations under our belt, our fit teams are hugely experienced and provide the highest quality finish allowing us to be sure our solution is the best option if you're insulating your conservatory ceiling.
The Installation process
Our teams arrive promptly at the agreed time.
If required our specialist tint is measured and fitted to the inside of the Conservatory Roof.


Installation of The C.H.R.I.S® system

The team survey and measure each roof panel to determine the amount of each material required, cutting all materials to size on site, ensuring a bespoke quality finish.
Next, we fix a pressure treated tanalised wooden sub-frame to your existing conservatory roof structure.
Once in place we install our ConservaHeat True Aluminium Foil Quilt, a bespoke quilting system specifically designed for Conservatories and only available through Conservatory Insulations.
We then repeat the process fixing a second timber sub-frame to the foil quilt system. This ensures an air gap on either side of the insulations prevent condensation in the ceiling cavity.
The next stage of the system is to install our unique Internal Finishing Board. Developed by us it reflects more of the natural light back into the room.
Finally we apply ceiling strips and caps for a flawless, easy maintainable insulated ceiling.

Tidy UP

Once complete, our installation team clean the conservatory and remove all of their work materials to leave you with a brand new room you can use all year round.
What comes next?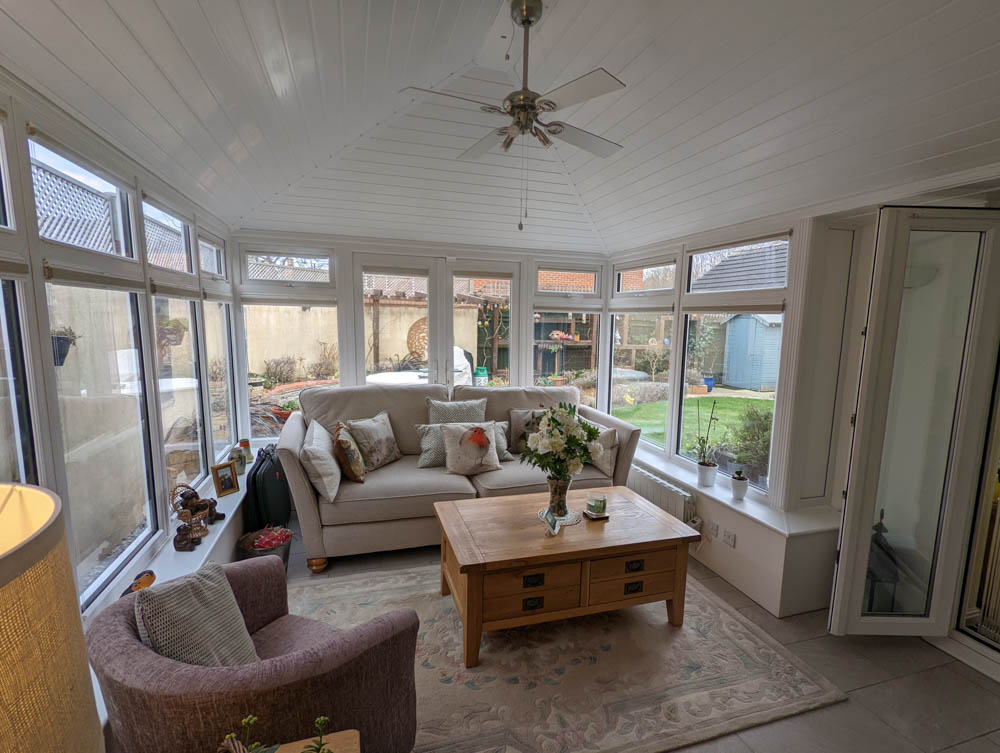 Within 7 days of installation of your conservatory ceiling insulation you will receive a call from our customer care team to confirm you are happy with everything. Once confirmed they'll finalise the details for your 10-year insurance backed guarantee and warranty. This will then be sent across to you digitally for your records.
All that's left to do now is fully enjoy your conservatory with the knowledge that its usable all year round.
Why insulation a conservatory ceiling?
Insulated conservatory ceilings are a great way to transform your conservatory into a room you can use all year round without the expense or inconvenience of having a proper extension added to your home.
Conservatory insulations offers homeowners a cost-effective way of getting the most from a conservatory, no matter the weather. Renovating existing conservatory glass or polycarbonate ceilings is considerably cheaper than a replacement conservatory roof or solid roof, so it's no wonder so many people choose to upgrade.
We are regularly asked are Insulated Conservatory ceilings beneficial? Our unique system means our 30,000 customers believe so as you can see in our example reviews here, and with so many satisfied customers nationwide you can rest assured we have installed our conservatory ceiling insulation near you. Have a look at our Trustpilot and Google reviews to see how it has made a difference.