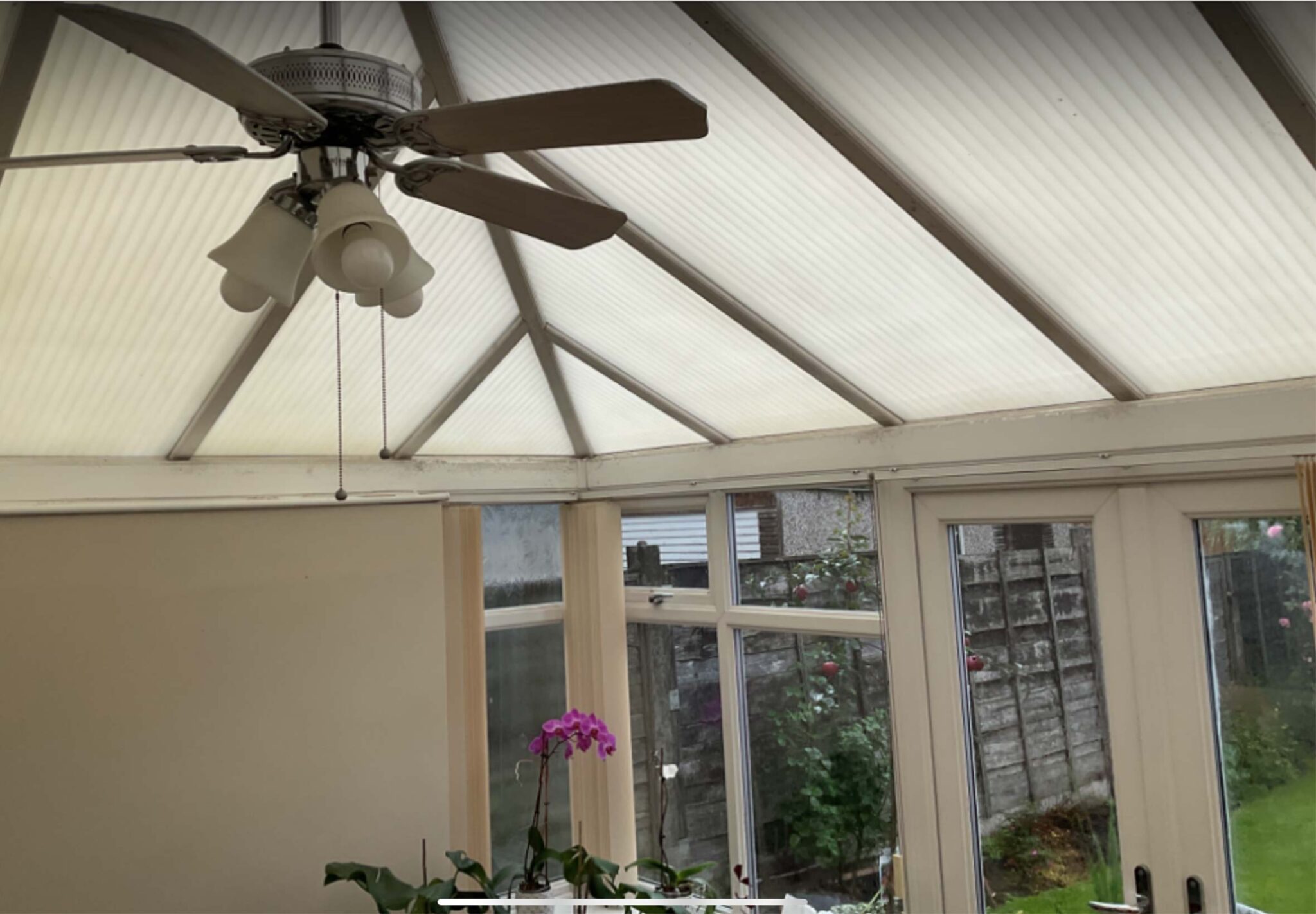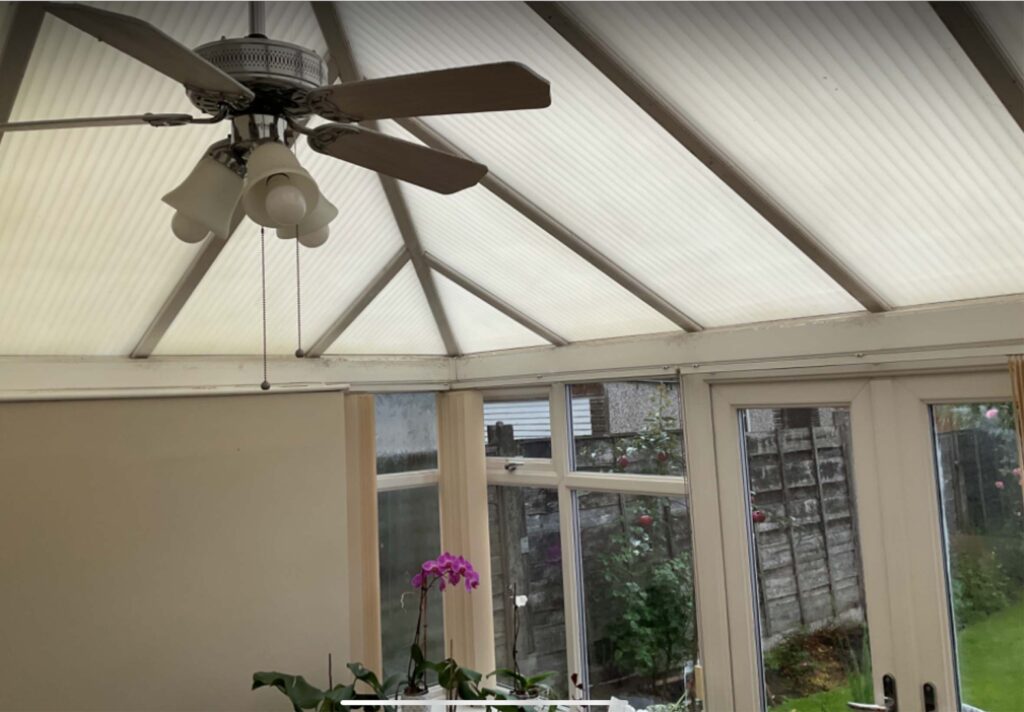 What are the benefits of insulating your conservatory?
If you are wondering how to insulate a conservatory roof and whether you should, we are keen to explain the benefits and how we can help.
Roof insulation is a great way to transform your conservatory into a room that you can use all year round – without concerns about spiralling energy bills in the winter.
Our conservatory insulation doesn't just offer unrivalled thermal performance, combating heat loss when the temperature drops. It can also help to keep your conservatory at a comfortable temperature during the summer by blocking the sun's rays from coming through your glass roof.
We'll take you through the steps of how we insulate your existing roof, as well as some of the ways you can get more out of your conservatory.
Why Should I Insulate My Conservatory Roof?
Insulating a conservatory roof will help to make your conservatory a liveable space throughout the year. You won't have the cost or inconvenience of building an extension, but you will have the benefits.
If you always wanted your own home office, the kids need space to play, or you wanted to create a relaxing getaway after a hard day of work, this is just what you're looking for.
Who can say no to saving money and regulating the temperature through the winter and summer? Not only this, but it will also add value to your home – the work will make the conservatory look great and make it a much more usable space.
Our bespoke conservatory insulation called the CHRIS system has a simple installation process which is quick and of an extremely high standard. We work to create a complete thermal barrier that can help to regulate the temperature of your conservatory.
How to insulate a conservatory professionally
Our experienced fitters offer a quick and easy installation process that leaves you with minimal inconvenience.
If you have a glass conservatory roof, we will measure and fit our tint to the full-length glazed panels, so the insulation is not visible outside. Our team will measure and cut all required materials on-site to ensure a high quality, bespoke finish.
At Conservatory Insulations, we want to help you get the most out of your conservatories, which is why our innovative and exclusive C.H.R.I.S.® system is so popular. See our reviews on Trustpilot and Google .
A pressure-treated tanalised wooden subframe is fixed to your existing conservatory frame. We then install ConservaHeat True Aluminium Foil Quilt System between the glazing bars. This specially designed insulation is exclusive to Conservatory Insulations.
We next fix a second wooden subframe beneath the insulation. After this, we can fit our exclusive beautiful white internal finishing boards, ceiling strips and caps, leaving a quality finish.
Finally, we clean up to ensure your conservatory is spotless and ready for its new lease of life.
For more details on our insulation installation process, please click here.
What Can Be Used To Insulate A Conservatory Roof?
There are a few options available if you're looking to improve your conservatory insulation. These vary in price and effectiveness.
Solar Control Film
If you have a glass or polycarbonate roof conservatory that heats up too much in the sunlight, you might consider a solar control film to reflect the sun's rays and stop heat build-up. This can help in the summer but will have a limited effect in the winter, adjusting the temperature a little by one or two degrees if that.
Replacement Conservatory Roof
This is a more extreme option, but replacing an old roof with a solid one will reduce heat in the warm weather and keep the heat in the winter. This option is often expensive.
The benefits of getting a new roof are selecting from several solid roof systems to find the warmest solid roofs for the winter. They also work as a natural barrier, stopping the sun's rays when it is extremely warm.
Aluminium Foil And Thermal Wadding
Our ConservaHeat True Aluminium Foil Quilt System is exclusive to us at Conservatory Insulations and offers great performance in regulating the temperature of your conservatory through warm or cold months. It is a great alternative to removing an entire conservatory structure.
It combats heat build-up when it is hot outside by blocking the sun.
It also offers better thermal efficiency during winter, saving you money on your energy bills and making the room usable throughout the whole year.
Ceiling Blinds
Thermal blinds reduce direct sunlight into the conservatory but have little other benefit compared to the insulation we provide. Conservatory insulations take down blinds every day of the week when installing our insulation, as our customers say they simply do not work and are just a trap for insects.
FAQs
Is insulating a conservatory roof expensive?
Costs can vary depending on the size of the roof. We are confident that we can offer a competitive price and better results than other conservatory insulation companies.
All you need to do is get in touch with us, and we can provide you with a free, no-obligation quote. We can offer our high-quality conservatory roof insulation service anywhere across the UK's mainland or islands.
Can I insulate my conservatory roof myself?
Installing insulated blinds or other makeshift solutions can be carried out by yourself. We do not recommend taking on a bigger job without prior experience. Also please be aware we are the only provider of the Conservaheat® tru foil quilt, the only insulation, specifically designed for conservatories.
Our high-quality product, expert finish, and in-depth experience provide a great service and the 10 year, insurance-backed guarantee and warranty will give you peace of mind.
How long will it take to insulate an existing conservatory roof?
It does not take our experienced team very long at all to install our insulation. We usually work with a two-person team and, depending on the size of the roof, most of our conservatory insulation jobs are finished within the day.
We can work around your existing internal features such as roof bars.
Do conservatory insulations reduce natural light?
After your conservatory roof has been insulated, you will have less light coming through the ceiling. As conservatory walls are mostly made up of windows, you will still get more than enough light.The uPVC cladding we use is white with a light sheen and reflects natural light. This allows you to enjoy a nice, naturally bright room without the glare you get from the sun with clear roofing. Just look at our innovative designs and perfect finish to get a better idea of how your conservatory will look.